It's on, people. The race for eliminating the finger-scanner-in-home-button paradigm, that is. Synaptics, the maker of all things 3D touch-y and biometric-y just announced a new 6x6mm Natural ID FS4500 fingerprint sensor that can be used with hefty cover glass on top.
That's right, the under-glass solution can function underneath a glass or ceramics layer that is as thick as 300um, which makes it a prime candidate for being placed in the type of new capacitive home keys that don't click, like on the HTC 10, or the one rumored for the iPhone …
PhoneArena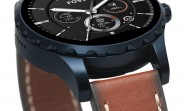 The Fossil Q Wander, Q Marshal and Q Founder Android smartwatches are now on sale. You can find them in the US store and in Europe.
The Q Founder is the biggest of the trio with its 47mm diameter case, the rest are smaller at 45mm. All of them support Bluetooth 4.1 LE and Wi-Fi 802.11n connectivity. Under the circular display ticks the Qualcomm Snapdragon 2100 chipset with 4GB of storage.
The Fossil Q Founder, Q Marshal and Q Wander
Because of its larger size, the Q Founder has a 400mAh battery, while the others have 360mAh ones. Charging happens via a cradle placed on the…
Huawei is one of the companies that plans to unveil new devices at this year's IFA expo. The Chinese smartphone maker is said to have a new lineup of devices in the pipeline, though not many details are known at the moment.
The good news is we're only a couple of days away from their official unveil, so the wait should be bearable enough. As with all the launch events, the hype is building up as information about Huawei's unannounced devices get leaked online.
According to Evan Blass, Huawei plans to launch at least three new devices at IFA 2016, and two of them belong to the new …
PhoneArena