While this week's major China-based flagship launch has been all about the Xiaomi Mi 5s duo, LeEco beat its compatriot to the draw with the recent Le Pro 3. Like the Xiaomi models, it gets the Qualcomm Snapdragon 821 under the hood along with plenty of RAM, and is also remarkably cheap for what it offers. While Xiaomi can boast an impressive 3 million registrations for the Mi 5s and Mi 5s Pro, LeEco's apparently managed half a million cold, hard sales in just 15 seconds.
It's difficult to recall a product selling so many units in such a short space of time, but it's not …
PhoneArena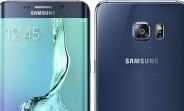 Just a few days after the Samsung Galaxy S6 and S6 edge started receiving it, the September security update has begun rolling out to the Samsung Galaxy S6 edge+ as well. Weighing in at 160MB, the update is currently hitting the international variant of the device.
Aside from the latest security patch, the update also beings along several other changes, although a detailed change-log is currently not available.
As is usually the case with OTA roll-outs, it may take some time for the update to hit your device. Meanwhile, if you feel impatient, you can manually check for the update by…
Google often talks about how it wants to make any app you use in your car the safest possible, which means less time looking at the screen and more time looking at the road. The simplest way to make that happen is with hands-free voice controls, so Google is greatly expanding the navigation commands available by voice in Google Maps.
Google Maps had previously offered up a limited selection of voice commands while the app was already navigating, including voice commands to find a nearby gas station or how long you had left on your route, but now there is a ton more to be done. …
PhoneArena